Critical thinking notebook
Content of critical thinking
 
– A notebook in PDF format to be printed in A4 format.
– 80 pages including stories, games, educational activities, theorical contents.
–  Comics book  in colour and White and black
Translated in English by Anahy Simon and Victoria Van Huyssteen.
The critical thinking notebook is created by two authors Séverine CHARLON, founder of the Grain's agency and Anahy Simon, illustrator.
The critical thinking notebook is protected by copyright and registered with the INPI. Any modification and any reproduction without the authorization of the Grain's agency are prohibited.
All sales are considered final upon receipt of payment by Paypal or bank transfer. Files are sent by wetransfer. Receipt of the bookl is considered final upon confirmation of delivery.
You can read Terms of Sales before buying.
Description
An educational comic book to learn about critical thinking…
Critical thinking notebook includes 7 comics, theoretical content and practices.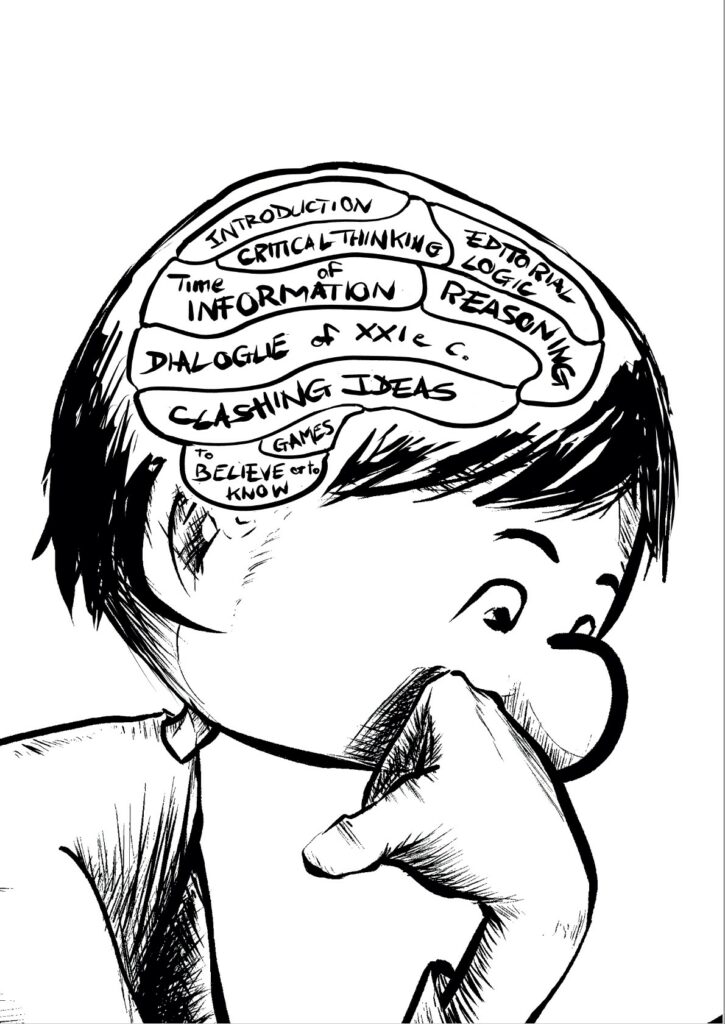 What is critical thinking?
In the 21st century, the critical thinking has become an alternative to the techno-centred way of modern thinking. With the use of digital technology skyrocketing in an daily life, the way we see modernity change.
Being modern means being connected? Is it intergrating technology in all aspects of work? With algorithmic editorial logics, do we know how our ideas are shaped? Do we also know how to detect our own reasoning?
The purpose of this notebook is to answer to these questions. The goal is to focus your attention on them.
Its objective: guide you into developing a critical mind, a new prerequisite to learn and generate ideas in the digital era.
in this notebook, there are comics and educational activities. You choose your reading path. Each story, each exercise will require an investment of time, concentration and effort to understand.
What topics does it cover?
Critical Thinking Notebook includes seven chapters. Each story proposes different themes and daily uses of critical thinking.
The exploration of critical thinking
Defining critical thinking is a complex exercice.  In this chapter, a first comic tells the story of 3 young specialists in their fields (philosophy, sociology and cognitive sciences). Everyone has their own definition of critical thinking.
Algorithmic editorial logics
Through a story of SEO, the reader becomes aware of the algorithmic editorial logics in a daily use: when he does a search on google.
A time of information
In this chapter, the reader is invited to return to the time of prehistory, then to the printing press to be projected once again into the present time. Over the centuries, we have changed the way we produce and consume Information. Our relationship to the time has changed. Do we have time to analyse all information ?
What does it mean to reason ?
When we analyze a situation, we issue arguments and opinions. Actually, we reason. In this new chapter, the reader discovers different methods of reasoning.
Relearning to talk
In this chapter, people discuss about strategy and explain their points of view. In Plato's era, the art of dialectics had been used to explore the a subject, a concept or an idea. Today, do we really take the time to dialogue about a subject?
Clashing ideas
2030, two young people evolve in a metaverse and visit an exhibition on the public debate. This one has disappeared…
To believe or to know
Last chapter of this notebook. A slammer invites us to debate about two concepts: to believe and to know.